Snow — in enough quantity — changes almost everything. It shrinks the accessible world to a few blocks. It makes many things impossible (driving, biking, flying) and other things possible that weren't before (skiing, snowmen, snow angels). It buries unsightly trash, clothes bare tree limbs, and records the otherwise mysterious motions of animals.
Snow quiets for a few hours the ceaseless movement of people, stills restless cities.
Snow is the great equalizer. It obscures human boundaries and ambitions and renders them temporarily meaningless. It turns fancy cars and aging clunkers alike into shapeless, useless lumps. It mocks plans, even those of the powerful.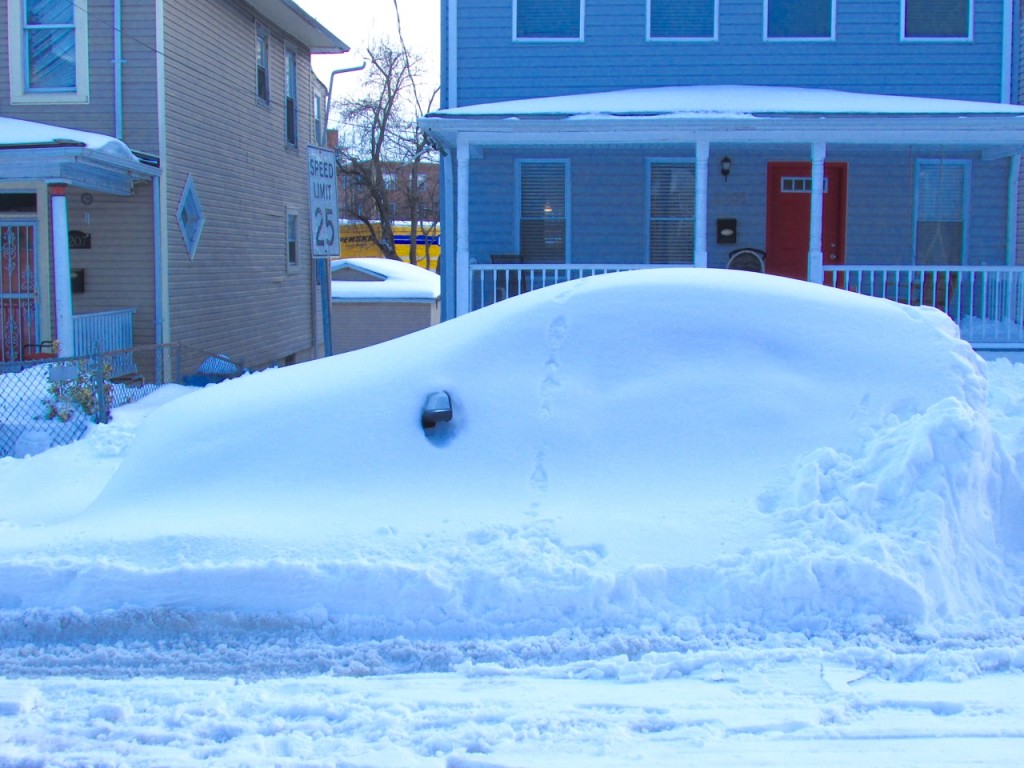 Car?
There's something irresistibly comic about snow — its slipperiness, its softness, its absurd, almost indecent voluminousness. It makes children and full-grown professional adults alike want to flop and roll on the ground, hurl things at each other and hurl themselves down hills on bits of plastic, laughing.
Snow casts its spell on us writers as well. Poets and would-be poets can't resist it. Reporters can't either, though perhaps they should; surely everything that could ever be written about a snowstorm has been written by now. But the public wants to know, so a predictable stream of tired adjectives pours forth from probably equally tired politicians and newspaper reporters. "Crippling," "paralyzing," "epic," and, of course, "historic."
And as those politicians and newspapers never tire of reminding us, snow can cause deaths. It can supposedly also cause babies.
Snow shows us what our world could be like. For three straight nights this past weekend, a group of friends, robbed of whatever plans we may have had for the weekend by the rather inelegantly named Snowzilla, gathered, ate, drank, told stories and played music late into the night. The morning after the storm, people — young and old, women and men, black, white and Latino — were out shoveling off sidewalks and cars. They laughed and joked in the startlingly bright sunshine. Neighbors helped each other, pushing stuck cars, digging each other out. In the seven years I've lived in my current hometown, with the possible exception of the line I stood in to vote for Obama in 2008, I have never seen so many residents outside at one time.
Yet, how quickly snow wears out its welcome. The 17.8 inches (or more) that fell last weekend haven't yet melted, and won't for some time, but already they've been pushed aside, piled haphazardly on the curb like so much old furniture. People have returned indoors and inward, working and griping about impassable roadways. I mourn this return to normalcy, which to a large extent means the return of the car and the return to work. Couldn't we have held on to our shrunken, snowbound world just a little longer?
Snow is, in the end, ephemeral, and so is its power to cover up the world's ugliness. As two friends and I skied on the half-plowed streets yesterday, we had to step aside for a car attempting to climb an icy hill. It was an older car, with front-wheel drive, clearly no match for the conditions. A piece of plastic that shields the engine compartment had partially broken off and was dragging on the ground. The car's tires spun uselessly and water vapor belched from the tailpipe. "Why try to drive a car like this on a day like this," we wondered, but the driver was clearly not out for a joy-ride. He had on a private security guard uniform, and his employer probably didn't care if roads were unplowed and Metro was shut down. A business or government building can be broken into whether open or closed. And a person can lose their job for not showing up to that building.
It was an important reminder: Snow may fall indiscriminately, but it doesn't distribute its joy equally. For that to happen, we all still have work to do.